---
The Perfect Braid, Every Time!
Are you tired of never getting your French braid to look as good as you want it? Or if you finally get it, only to have it come loose by the middle of the day?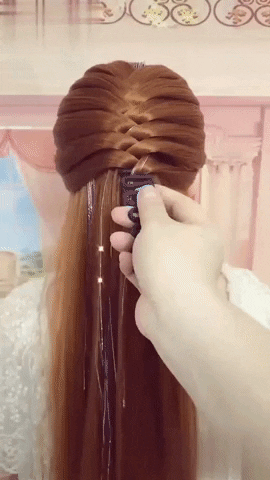 Incredibly Easy To Use - French braids can be hard to do.  WIth the Frenchi™, just follow the path, and it comes out perfect every time!
Secure Braid - The Frenchi™ keeps your hair tight and secure all day long!
Comfortable - You can wear this all day and forget you even have it in!
Invisible - No one will no that you have the Frenchi™ in when looking at your French braid. They will only be giving you compliments on how well its done!
Multi-Use - Use the Frenchi™ for many other hair styles as well!
Click on "ADD TO CART"  NOW While it's still in stock!  Offer available while supplies last.
Included:
1 x Frenchi™
AND
1 x Frenchi™ FREE!
Customer support:
If you have any inquiries either before or after purchase, reach out to us at support@traditionmodern.com.  We are happy to assist you at any time!

All orders have a 30-day money back guarantee
Perfect!
These really do the job, and make flawless braids.
They are simple products but they do magic I liked them
Holds All Day
This is a simple product that really does the job, and holds all day!