---
Tired of dust collecting in hard to reach places? Wish you didn't have to put yourself in danger standing on a chair or counter to clean those places?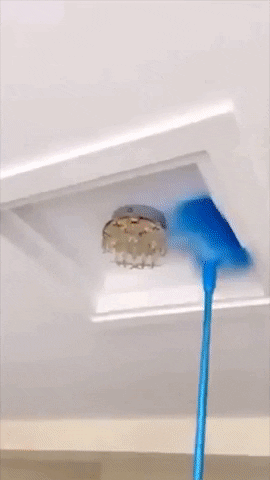 Quick cleaning: The motorized battery power of the brush makes it quick to use. You won't have to spend hours dusting and cleaning, as it will be done within minutes!
Efficient cleaning: The 360° rotating brush head reaches every spot to be cleaned, making this dust cleaner highly efficient. The electrostatic bristles attract the least bits of dust to give everything a clean look.
Wide use: This rotating spin cleaner is ideal for cleaning ceiling fans, window blinds, pet hair, cobwebs, lamp, furniture, or shelves.
Extendable design: The detachable design of the duster makes its size adjustable. You can increase or decrease its length by installing or removing the extending rods.
Click on "ADD TO CART" NOW While it's still in stock!  Offer available while supplies last.
Included:
1 x Battery Operated Handle (batteries not included)
1 x Long Brush
1 x Short Brush
Customer support:
If you have any inquiries either before or after purchase, reach out to us at support@traditionmodern.com.  We are happy to assist you at any time!

All orders have a 30-day money back guarantee
Really Good Gift
I thought my wife was going to be upset when I gave her a cleaning device as a present, risky I know, but she loved it!
Perfect Name For This!
This really does turn into a hurricane of cleaning efficiency!
WOW!
I am admittedly a little OCD and thought I had all the home cleaning tricks figured out. Once I got this tho, it brought my game to a whole new level! I'm very short as well, and I used to have to get up on a chair to clean the chandeliers and above the cabinets. Not anymore! This is my secret weapon!
This thing is awesome, I get my whole house clean in no time!
Duster Buster On Steroids!
My mother in law told me about this, and then I forgot. I then came across this on Pinterest, and had to have it. Love it!