---
Don't Let Your Swing Deteriorate This Winter!!
Are you stuck inside this winter just dreaming about golf? Wish you had a way to actually improve your swing this winter? Do you want instant feedback and a way to get a straighter, more consistent swing? If so, then this product is for you!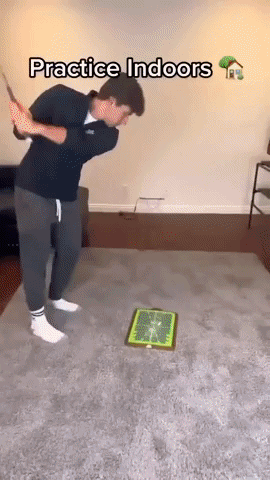 1. 
Great Gift For The Golfer In Your Life - Whether you or someone you love wants to improve their game, this is the easiest way to do so.
2.
Perfect Indoor Training Aid This Winter - Most of us are stuck inside this winter, counting the days until we can hit the course again.  During this time, the accuracy of our swing suffers.  This portable mat can be used indoors to get a more consistent swing!
3.
Instant Feedback - This is one of the few golf training aids that gives you instant feedback on your swing.  Simply swing on the mat to see if you are thin/fat, toe/heel, slicing or hooking.  With only a few minutes per day, start refining your impact area for the perfect swing!
4.
Beginners or Advanced - For beginners or advanced alike, this will benefit every golfer alike.  Golf is a game of constant improvement, and if your swing feels off, this a perfect way to see where your club is landing and which way it is facing to improve the quality of each swing!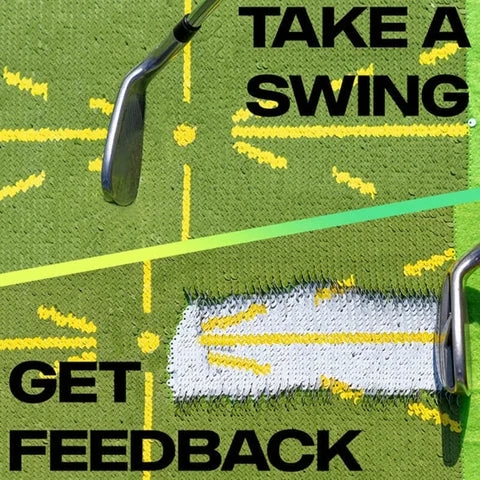 A golf training aid that gives instant feedback on your swing
Improve your swing consistency by analyzing your divot.
Get instant feedback on your ball contact.
Practice in the comfort of your own home or backyard - with or without a ball!
Don't waste your money on range balls without real time divot feedback.
ULTRA Durable - Sequins don't fly off, lasts over 5000 swings
Click on "ADD TO CART" NOW While it's still in stock! Offer available while supplies last.



Package includes:

1 x Training Mat
Customer support:


If you have any inquiries either before or after purchase, reach out to us at support@traditionmodern.com. We are happy to assist you at any time!
All orders have a 30-day money-back guarantee
swing mat
excellent, will have to wait and see durability
Swing Straight™ - Golf Training Mat
Product arrived yesterday. Works great.
Highly recommended, brand very well as you hit