---
Revolutionize Your Renovation Projects With the 3-in-1 Caulking Tool, Silicone Scraper and Glue Remover Knife

!
Are you tired of using multiple tools for different tasks during your renovation projects? Do you want a tool that can save you time and make your work more efficient? Are you looking for a cost-effective solution that can replace multiple specialized tools?
Benefits
Versatility: A 3-in-1 caulk scraper and glue remover knife can be used for multiple tasks, such as removing old caulk or glue, scraping surfaces, and cutting materials. This eliminates the need to purchase multiple tools for different jobs.

Ease of use: The design of this type of tool makes it easy to hold and maneuver, allowing for precision and control when working on small or hard-to-reach areas.

Time-saving: Having a multi-functional tool like this can save time as it eliminates the need to switch between different tools for different tasks, allowing you to complete projects more efficiently.

Cost-effective: Buying a single tool that can perform multiple tasks is often more cost-effective than purchasing multiple specialized tools. This can save money in the long run.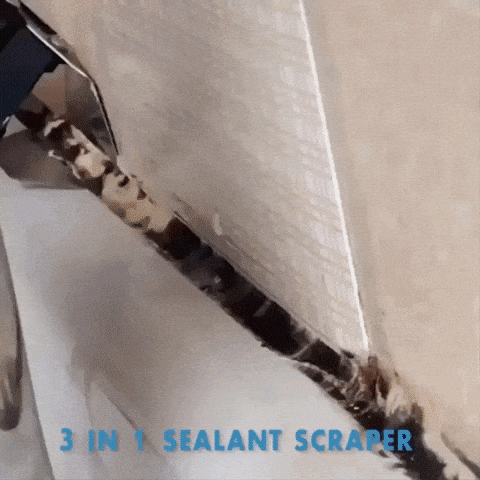 Features
Item: Residual glue scraper
Material: stainless steel/plastic
Size: 7.5" x 1.1"
Plastic head type: 3R, 6R, 10R, 13R, 17R
Purpose: corner scraper; glass glue scraper
Click on "ADD TO CART" NOW While it's still in stock! Offer available while supplies last.



Package includes:

1 x 3-in-1 Caulking Tool + 5 Bonus Heads 


Customer support:


If you have any inquiries either before or after purchase, reach out to us at support@traditionmodern.com. We are happy to assist you at any time!
All orders have a 30-day money back guarantee.
The product corresponds to the description. An excellent set of angular flexible spatters for the stitching of inner corners on the tile. There is also a metal angle cutter for removing silicone sealant.
It all came as in the picture, still in the case has not tried, but it looks like the truth!