---
Elevate Your Drink Game with These 6-Ball Silicone Ice Molds
Do you want to cool down with icy drinks during the hot summer? Tired of your beverages getting warm too quickly?  If so, this is the product for you!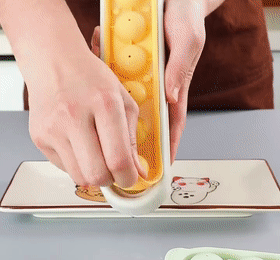 Benefits
1. Slow melting
Ice balls have a larger surface area relative to their volume, so they melt more slowly than regular ice cubes. This can help to keep drinks cold without watering them down as quickly.
2. Efficiency
Ice ball molds can produce perfectly round ice balls quickly and consistently. This can be useful if you need a lot of ice balls for a party or event.
3. Durable
The silicone material is also durable and dishwasher safe, making it easy to clean and maintain.
4. Easy release
Silicone ice mold trays are often designed with flexible sides, which can make it easy to pop the finished ice balls out of the tray. This can be particularly helpful if you are using a tray with multiple small molds.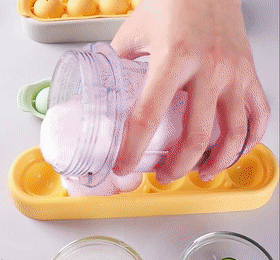 Feature
1. Easy To Unmold
The non-stick silicone ice cube molds can be easily popped out with just one twist.
2 .DIY Creative Ice Mold
Just fill the mold with water, fruit, jam, ice cream, yogurt, wine, etc, to customize your favorite flavor. Enjoy DIY fun with your kids for a cool summer.
3. Leakage Proof Sealing Snap
The upgraded sealed dust-proof cover design makes the ice cubes firm and does not fall off. The water injection method is simple, and the ice hockey made is full and round.
4. Excellent Quality
Food-grade PP+TPR soft rubber material, safe to use, non-toxic harmless. Easy to clean, dishwasher or hand wash.
Click on "ADD TO CART" NOW While it's still in stock! Offer available while supplies last.



Package includes:

1 6 Balls Silicone Ice Mold Tray (color of your choice)



Customer support:


If you have any inquiries either before or after purchase, reach out to us at support@traditionmodern.com. We are happy to assist you at any time!
All orders have a 30-day money back guarantee.