---
Make Your Workspace More Comfortable and Efficient with ArmSavior!
Do you struggle with tired arms and poor posture at your desk? Are you ready to transform your workspace into a comfortable oasis?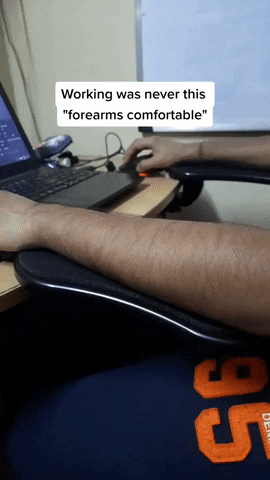 Benefits
1. Comfort
An armrest can provide added support and comfort, helping to reduce the strain on your arms, shoulders, and neck while working at your desk.
2. Improved posture
A well-designed armrest can help you maintain good posture while working, which can help reduce the risk of repetitive strain injuries.
3. Easy to install
Most armrests are designed to be easy to install and can be done without any special tools.
4. Increased productivity
A comfortable and ergonomic work environment can help increase your productivity by reducing distractions and discomfort.

Feature
Ergonomic design : 
180-degree adjustable, flexible, and comfortable. Relieve your shoulder, neck, arm, and wrist, no more stress.
Adjustable: 
Behind its simplicity, the cushion hides a few useful tricks. It can be placed in the desired position, and when the front arm is placed on top, the cushion locks into place by itself.
Click on "ADD TO CART" NOW While it's still in stock! Offer available while supplies last.



Package includes:

1 ArmSavior (color of your choice)



Customer support:


If you have any inquiries either before or after purchase, reach out to us at support@traditionmodern.com. We are happy to assist you at any time!
All orders have a 30-day money-back guarantee.
Good quality for the price! Practical
Fragile in appearance. Long-term use will show all the pros and cons. While it is dawning.