---
Experience the Ultimate Combination of Comfort and Convenience!
Are You Tired of Carrying Heavy Bags and Searching for a Seat? Discover the Perfect Solution with Our Backpack Stool!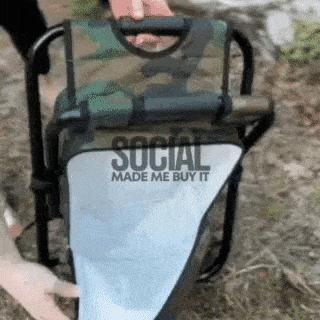 Benefits
1. Versatility
A backpack stool combines the functionality of a backpack and a stool in one compact item. It allows you to carry your belongings conveniently while also providing a portable seating option wherever you go.
2. Portability
The compact and lightweight design of a backpack stool makes it highly portable. Whether you're going for a hike, attending outdoor events, camping, or simply exploring the city, you can easily carry it with you without feeling weighed down.
3. Comfortable Seating
With a backpack stool, you'll always have a comfortable place to sit. Whether you need a quick break during a long hike or a seat at a crowded park, the built-in stool provides a stable and ergonomic seating option.
4. Storage Space
Backpack stools usually have multiple compartments and pockets, providing ample storage space for your belongings. You can store your essentials such as water bottles, snacks, jackets, and personal items conveniently within the backpack.
Feature
Material: nylon or polyester fabrics/  aluminum or steel
Weight Capacity:  200-250 pounds
Dimensions: 15-18 inches * 12-15 inches * 8-10 inches
Click on "ADD TO CART" NOW While it's still in stock! Offer available while supplies last.



Package includes:

1 BACKPACK STOOL


Customer support:




If you have any inquiries either before or after purchase, reach out to us at support@traditionmodern.com. We are happy to assist you at any time!
All orders have a 30-day money-back guarantee.