---
Tired of bulky belts that are hard to get on and off, and only work with a handful of outfits and occasions?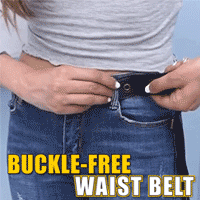 MAKE LIFE EASIER - To use this elastic belt, just snap on once and let you forget that you're wearing a belt all day. Hassle-free dressing, save time for bathroom breaks! Better yet, leave them on your go-to pairs of pants, and don't even think about putting on belts - speed up your morning routines!
INVISIBLE BUCKLELESS BELT - No buckle belt, there's no bulge and no flap on the side. This belt for jeans is very low-profile and keeps pants in place well.
COMFORTABLE QUALITY STRETCH BELT - Made of high-quality elastic material, it's very soft and comfortable. Really relax your waist.
STRETCH BELT SIZE - The invisible belt is 100(women)/120(men) x 3 cm, our adjustable flat belt is soft and lightweight, comes with good elasticity, can fit with your waistline well.
Click on "ADD TO CART"  NOW While it's still in stock!  Offer available while supplies last.

Included:
1 x Versi Belt™
39 inch belt (elastic and adjustable)
Customer support:
If you have any inquiries either before or after purchase, reach out to us at support@traditionmodern.com.  We are happy to assist you at any time!

All orders have a 30-day money back guarantee
This Belt Is Great!
All perfect, I love everything about it! The buckleless design is so comfortable and makes it so easy to get my pants on and off when going to the bathroom. I can also change up the look by latching it in from as well. On top of that, I can and a ring to the middle for another look as well. It is so versatile, I absolutely love it!
My husband love it!
I wanted something to stop my husband from tying the belt too much. He had gotten used to it. This has worked. It gave him the feeling of tightness around the waist but didn't dig into the skin. It's adjustable so will fit a lot of different waistlines.. Great solution.
Life Saver!
I have always hated belts because my belly hangs over my pants, and belt buckles would always pinch when bending over. This is super comfortable and can be adjusted which I love. Thank you!
Bought 1 had to buy more!
This is the second I bought, I have to have this in every color.
Absolutely love it. I was sceptical when I ordered, but it replaces any belt nicely, and you don't have a nasty bulge in front that stabs into your stomach when you bend, and you don't have to unbuckle when going to toilet 😁
Fast delivery while excellent quality
Perfect gift for my girlfriend
She is always complaining about her belts (they never go with anything, or only one thing) and thought this would be a good gift. I was right, she loves it!