---
 Never struggle with chopping or slicing again!
Are you looking for a kitchen tool that will chop and slice your food fast? Are you tired of struggling to slice and dice your favorite foods? Stop using a knife and cutting board separately to cut your food like the old-fashioned way!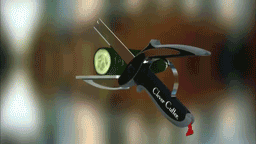 Feature
1.
NO MESSY CLEANUP - A 2-in-1 knife and cutting board that chops and slices your favorite foods in seconds without leaving a messy cleanup.
2.
 UTILITY FOR ALL SLICING - Any product can be sliced using Easy Cutter. A single set of knives and a chopping board are replaced by a small, portable food processor and kitchen scissors. Replace your food scissors, vegetable slicer, fruit cutter, food chopper, and other kitchen appliances with these unusual tools.
3.
SHARP AND EFFECTIVE - The razor-sharp blades we use to rapidly and effectively cut through any goods are made of stainless steel. Using our incredible kitchen gadget, you'll be able to slice any product, cut greens, create artistic food decorations for your dishes, and much more.
4.
HIGH-QUALITY MATERIALS MADE TO LAST - The cutting board that is built in is made of durable, high-quality plastic. You can work for as long as you'd like without feeling tired thanks to the ergonomic handle design. You are shielded from cuts and injuries by safe construction.
Click on "ADD TO CART" NOW While it's still in stock! Offer available while supplies last.



Package includes:

1 Easy Cutter
Customer support:
If you have any inquiries either before or after purchase, reach out to us at support@traditionmodern.com. We are happy to assist you at any time!
All orders have a 30-day money-back guarantee.
Corresponds to the description. All whole