---
Say Goodbye to Manual Corkscrews and Hello to Convenient Wine Opening!
Are you tired of struggling with manual corkscrews to open your wine bottles?Would you like to have a quick and convenient way to open your wine?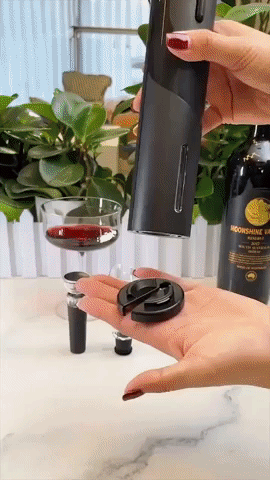 Benefits
Fashionable and portable - our wine openers have a wonderful hand feel and a smooth surface. It effortlessly removes the cork in a matter of seconds while protecting your hands. It will be easier to transport and take up less room because of its compact size.

4 in 1 - Electric wine opener kit with stand, foil cutter, wine aerator pourer, and vacuum stoppers is a 4-in-1 gift set. The ideal option for a gift are 4-in-1 multifunctional wine accessories because they are economical and come in a package.

Cordless and Durable - electric wine bottle opener that is strong and powered by 4 AA batteries (not included). By pushing the "Down" and "Up" buttons simultaneously, you can remove the cork in 6–8 seconds without damaging it. Up to 100 wine bottles can be opened at once.

Simple to Use - Peel, Pop, and Push—Only 3 Steps to Quickly Remove the Cork. The compact and useful vacuum stopper can remove air from your wine bottle to preserve wine tasting new for up to a week. It is built for reliable and predictable flow-control.
Feature
Material: Aluminum alloy for corkscrew, suitable for food, ABS, PP
Battery: Battery Powered (not included)
Sound: less than 75dB working noise
Click on "ADD TO CART" NOW While it's still in stock! Offer available while supplies last.



Package includes:

1 Elite Wine Set 



Customer support:


If you have any inquiries either before or after purchase, reach out to us at support@traditionmodern.com. We are happy to assist you at any time!
All orders have a 30-day money back guarantee.
This is my second time to give a great gift! I recommend
The spin is cool. Checked everything works! Recommend!!! I will order more!
I had a hard time wine alone.