---
Stylish , Durable, and Convenient: Meet the Portable Laundry Basket of Your Dreams!!
 Are You Looking for a Laundry Basket That Fits Your Style and Saves You Space?Tired of Lugging Heavy Laundry Baskets Around? What If You Could Have a Portable Option Instead?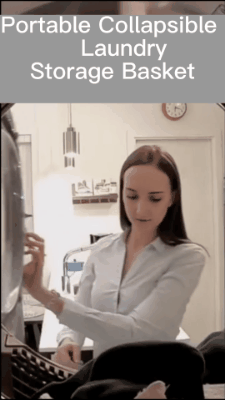 Benefits
1.Convenience
A portable laundry basket is designed to be easily moved around, which means you can carry it from room to room as needed. This makes it more convenient to transport laundry from one area to another, such as from a bedroom to a laundry room.
2.Space-saving:
The foldable design of this particular laundry basket makes it easy to store when not in use. This means it takes up less space than a traditional laundry basket, which can be especially helpful in small living spaces.
3.Health benefits
A portable laundry basket can help keep your living space clean and organized, which can reduce the risk of allergies and other health concerns that can arise from a cluttered or dirty living environment.
4.Cost-effective
A portable laundry basket can be a cost-effective option, as it can last for many years and eliminate the need for disposable laundry bags or other single-use options.
Feature
Material: Cloth
Size unfolded diameter
Large: about 66cm/26inch
Small: about 53cm/21inch
Click on "ADD TO CART" NOW While it's still in stock! Offer available while supplies last.



Package includes:

1 Fold'n'Flair



Customer support:


If you have any inquiries either before or after purchase, reach out to us at support@traditionmodern.com. We are happy to assist you at any time!
All orders have a 30-day money back guarantee.