---
Effortlessly Add Flavor to Your Meals!!
Are you ready to say goodbye to pre-ground spices and hello to full flavor? Are you tired of dull and ineffective spice grinders? Try now our Gravitec Seasoning Mill™!!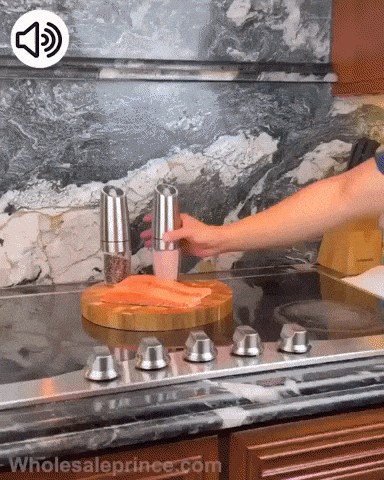 Benefits
1. High-quality grinding
This grinder features a high-quality ceramic rotor that provides efficient and precise grinding, ensuring that your spices are evenly ground and releasing their full flavor.
2. Adjustable grind
The grinder features an adjustable coarseness setting, allowing you to customize the grind size to your liking. This makes it versatile enough to use with a wide range of spices, including salt, pepper, and various other herbs and spices.
3. Portable
The compact size and lightweight design make this grinder easy to carry with you, whether you're on a picnic or traveling.
4. Stylish design
With its sleek stainless steel and glass design, this grinder is both functional and aesthetically pleasing, making it a great addition to any kitchen or dining room.
Feature
Metal Type: Stainless Steel
Material: MetalMills
Type: Salt & Pepper Mills
Click on "ADD TO CART" NOW While it's still in stock! Offer available while supplies last.



Package includes:

1Gravitec Seasoning Mill  (color of your choice)



Customer support:
If you have any inquiries either before or after purchase, reach out to us at support@traditionmodern.com. We are happy to assist you at any time!
All orders have a 30-day money-back guarantee.