---
Water temperature lamp faucet has the effect of sterilization, can install freely on the head of your kitchen faucet.  A convenient and practical water control helper that you can control the temperature as you want. No More Burning your hands!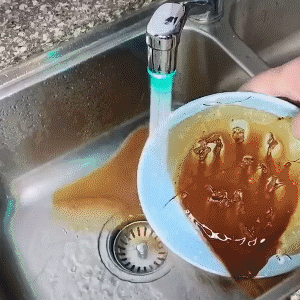 ENERGY SAVING
The built-in mini generator will generate electricity by the pressure of water. No batteries are required.
TEMPERATURE CONTROL - THREE COLORS
Discoloration with the temperature change of water, cold water, warm water, hot water respectively displays different colors.
The Operation Is Simple
It is best to use it to wash dirty dishes with warm water especially in the cold weather, which will be refreshed immediately so that you can save time and do housework most efficiently.
BLUE LIGHT
It automatically displays blue when the water temperature is lower than or equal to 32 degrees.
GREEN LIGHT
When the water temperature is between 33 and 43 degrees, it is green.
RED LIGHT
When the water temperature is 41-50 degrees, it shows red.
Click on "ADD TO CART"  NOW While it's still in stock!  Offer available while supplies last.

Included:
1 x LED Light Changing Temperature Faucet Head
 Internal diameter: 15mm
External thread diameter: 25mm
Item size: 32 * 25 * 25mm
Customer support:
If you have any inquiries either before or after purchase, reach out to us at support@traditionmodern.com.  We are happy to assist you at any time!

All orders have a 30-day money back guarantee
So Cool!
I love how this lights up the sink, especially at night!
No More Burns!
This has saved my hands more than once. I have 5 kids and I'm always moving so quickly in the kitchen, only to put my hands under scolding water. When I see red, I know it's too hot. Very useful for a busy Mom like me. Thank you!
It's great. Been going long