---
Time To Get Rid Of Your Germ-Filled Toilet Brush That's An Eyesore!
Are you tired of having a stinky, bacteria laced, old toilet brush taking up room in your bathroom? Wish there was a way to make a simple toilet brush actually add to the decor of your bathroom? Look no further!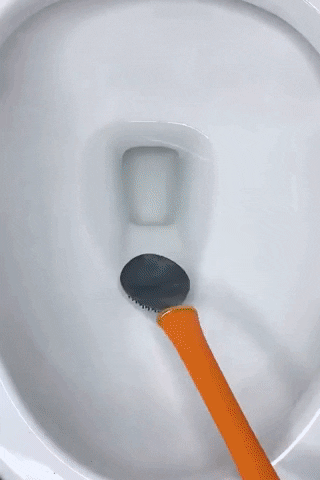 Benefits

1.
Easy to Install - Fits anywhere in your bathroom that is convenient.  Simply stick the base to the wall or side of cabinet so it is up and out of the way.  
2.
Hygienic - Do you find your old toilet brush that leaks all over your floor after you use it? For decades, we have been using the same old toilet brush with individual hairs, that actually holds waste and bacteria!  Now with the mounted holder, the head of your toilet brush will be covered and enclosed for less bacteria to spread.  Made with quality materials, this will clean your toilet effectively, and clean off easily.
3. 
Modern Design - You won't find any other toilet brush that will actually positively add to the decor of your bathroom.  Stop using the same old toilet brush that's been the same since our Grandparent's era.  Bring a luxury look to any bathroom!
 4.
Quality That's Made To Last - The Luxury Toilet Brush not only looks good, but will function better than ever.  Stop buying toilet brushes that are a magnet for germs/bacteria, and upgrade your bathroom today!
Click on "ADD TO CART" NOW While it's still in stock! Offer available while supplies last.



Package includes:

1 x Luxury Toilet Brush


Customer support:

If you have any inquiries either before or after purchase, reach out to us at support@traditionmodern.com. We are happy to assist you at any time!
All orders have a 30-day money-back guarantee.

I like it. The quality of casting parts has been carefully considered, and we hope to get the best. But everything was solid.
Better than I expected. The quality is fine and I find it more hygienic than traditional brushes. Satisfied purchase
Good item good seller fast shipping