---
No more drips or spills - our non-drip spout makes for a mess-free kitchen!!
Are you tired of wasting oil due to overpouring or spills? Are you looking for a way to measure and control your oil intake? Our Measuring Oil Bottle can help!"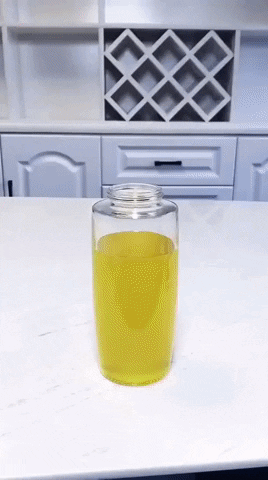 Benefits
1.Precision pouring
An oil dispenser bottle allows you to control the amount of oil you use, which can be especially helpful if you're trying to follow a recipe or watch your fat intake.
2.Easy to store
Oil dispenser bottles often have a slim design, making them easy to store in a kitchen cabinet or on a countertop.
3.Non-drip spout
Many oil dispenser bottles have a non-drip spout, which helps to prevent spills and messes.
4.Easy to clean
An oil dispenser bottle is easy to clean because it has a narrow opening at the top, which prevents food particles from getting trapped inside. Simply rinse it out with warm, soapy water and it's ready to use again.
Feature
Item size: 9 oz/ 17 oz

Click on

"ADD TO CART"

NOW

While it's still in stock!

Offer available while supplies last.
Package includes:
1 x Measuring Oil Bottle Set (17oz and 9oz bottle included)
Customer support:
If you have any inquiries either before or after purchase, reach out to us at support@traditionmodern.com. We are happy to assist you at any time!
All orders have a 30-day money back guarantee.
Super Easy!
I love cooking but hate dealing with the oil. No matter how careful I am, the stove gets oily, the handles get oily, and then next time I grab the oil bottles, those are oily too! These have been great, super easy to use!
The large piece arrived but seller responded quickly and resolved. Is a good seller and reageerd quickly