---
Keep Unwanted Guests Out Of Your Personal Space!
Do you want to add an extra layer of security to your door? Are you worried about thieves trying to break into your house, apartment, business, or hotel room while you are home or away? This Portable Door Alarm is the door stop for you! 
"I bought this portable door stop alarm for my college dorm room and it has been a lifesaver. It's small and discreet, but packs a punch when it comes to security. I feel much safer knowing that I have an extra layer of protection."
-Jennifer A.
Benefits
Security: A portable door stop alarm can alert you if someone tries to open your door without your permission, potentially deterring burglaries or intrusions.

Peace of mind: Knowing that you have an extra layer of security in place can give you peace of mind when you are home alone or traveling.

Easy to use: Portable door stop alarms are easy to use and do not require any installation or special setup. You can simply place them in front of the door and activate the alarm when needed.

Versatility: Portable door stop alarms are small and lightweight, making them easy to take with you wherever you go. You can use them in a variety of settings, such as at home, in a hotel room, or even in a dorm room.
 "I travel a lot for work and always worry about the safety of my hotel room. This portable door stop alarm has been a game changer - I can activate it when I'm in the room and feel much more secure knowing that it will alert me if anyone tries to enter without my permission."
-Allie J.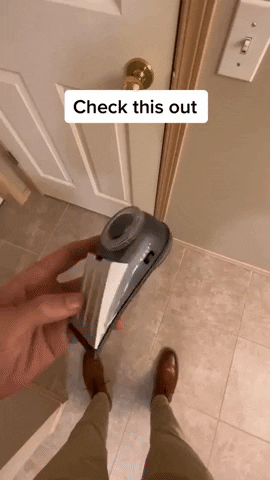 Specifications:
Color: Black silver
Material: ABS, stainless steel
Battery: one DC9V battery (not included)
Size: 5.5x1.8x1.5in
Click on "ADD TO CART" NOW While it's still in stock! Offer available while supplies last.



Package includes:

1 x Portable Door Alarm



Customer support:


If you have any inquiries either before or after purchase, reach out to us at support@traditionmodern.com. We are happy to assist you at any time!
All orders have a 30-day money back guarantee.
Great product arrive quickly corresponds to the description
Good reception conforms to the description and very noisy ^ ^ everything you need ^ ^
I have bought many really scare away thieves, highly recommended
It's the 5th time I buy it an excellent item to scare the thieves away