---
Light up Your Life with the Colorful Radiant Teddy!!
Are you looking for help you to relieve stress and anxiety? Or are you looking for a fun, stunning, indoor home decor lighting?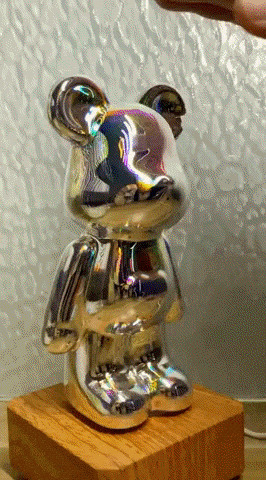 Benefits
Aesthetically pleasing: The glass bear LED lamp with color-changing feature can add a visually appealing touch to any room or space it is placed in.

Versatile lighting: With the ability to change colors, the lamp can be used to set different moods and ambiance to match different occasions and preferences.

Energy efficient: LED lamps are known to consume less energy than traditional light bulbs, which means that the glass bear LED lamp is not only environmentally friendly, but also cost-effective in the long run.

Durable: Glass lamps are typically more durable and can withstand more wear and tear compared to other types of lamps. The added LED feature also makes it a longer-lasting lighting option.
Feature
Lighting modes : 6 different Lighting Modes
Dimension: 3.93 * 10.03 inch
Click on "ADD TO CART" NOW While it's still in stock! Offer available while supplies last.



Package includes:

1 Radiant Teddy



Customer support:


If you have any inquiries either before or after purchase, reach out to us at support@traditionmodern.com. We are happy to assist you at any time!
All orders have a 30-day money back guarantee.