---
Never Buy Batteries Again: Switch to ReCharge AA Batteries Today!
Looking for a convenient power solution that doesn't require separate chargers or power sources? Are you tired of dealing with dead batteries in your devices?
Benefits
1. Cost-effective
Over time, USB rechargeable AA batteries can be more cost-effective than disposable batteries. Since you can use them repeatedly, you won't have to keep buying new batteries and can save money in the long run.
2. Environmentally friendly
Disposable batteries are harmful to the environment since they contain toxic chemicals that can leak into the ground if not disposed of properly. Rechargeable batteries reduce waste and are more environmentally friendly.
3. Convenience
Since USB rechargeable batteries can be charged via USB, you don't need a separate charger or power source. This makes it convenient for traveling or when you're on the go.
4.No need to constantly buy batteries
With rechargeable batteries, you don't have to worry about constantly buying new batteries. This saves you time and money.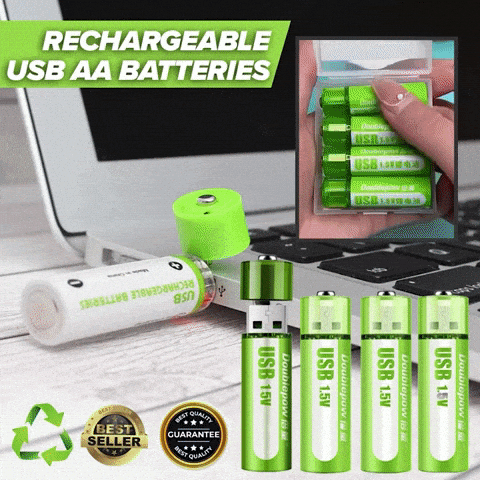 Feature
Battery Type: AA Rechargeable USB, NiMH
Includes: Plastic Carrying Case
Input Source: USB
Capacity: 1450mAh
Compatibility: USB 2.0 and USB 1.1
Weight: 3.1 oz (4 batteries with case)
Strength: 1.2 Volts
Click on "ADD TO CART" NOW While it's still in stock! Offer available while supplies last.



Package includes:

1 ReCharge AA



Customer support:



If you have any inquiries either before or after purchase, reach out to us at support@traditionmodern.com. We are happy to assist you at any time!
All orders have a 30-day money-back guarantee.