---
Effortlessly take accurate measurements with the easy-to-use!!
Are you tired of inaccurate measurements ruining your projects? Looking for a versatile measuring tool that can be used on multiple surfaces? Try the Ruler Roller for precision every time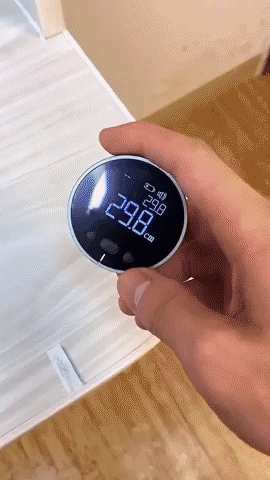 Benefits
1.Multiple measurement units
The ruler can measure in inches, centimeters, and millimeters, making it suitable for different types of projects and measurements.
2.Easy to read display
The electronic display provides a clear and easy-to-read measurement, making it easy to take accurate measurements quickly.
3.Easy to use
The ruler is straightforward to use, with simple controls and easy-to-understand instructions, making it suitable for both novice and experienced users.
4.Convenient
The ruler is lightweight and compact, making it easy to carry with you wherever you go, so you can take measurements on-the-go, and it also has a lock function that hold the measurement and allow you to transfer it to a paper.
Feature
Shell material:Aluminum alloy, ABS
Exterior crafts:
Fine polishing + matte sandblasting
Maximum ranging:40m
Battery capacity:200mAh lithium battery
Charging method:5V Max 0.2A
Click on "ADD TO CART" NOW While it's still in stock! Offer available while supplies last.



Package includes:

1 Ruler Roller



Customer support:


If you have any inquiries either before or after purchase, reach out to us at support@traditionmodern.com. We are happy to assist you at any time!
All orders have a 30-day money back guarantee.