---
**Last 100 sale! Buy 1 Get A 2nd For Only $8! Add any 2 brush colors to your cart.  Once these last 100 brushes are gone, the sale will be discontinued.**
At the moment, you spend hours trying to get your own or your daughter's long hair detangled. No matter how gentle you are, it is the same scenario every single day…
You try to brush.
The brush gets stuck.
Your kid cries, running around your home.
What if you could detangle knots within minutes without pain?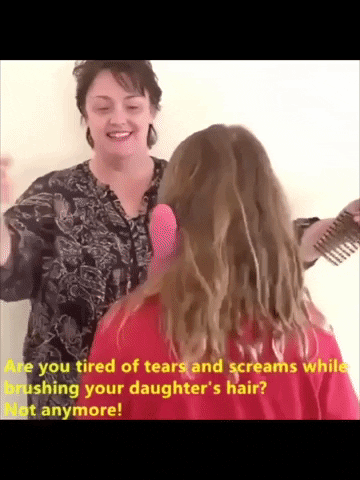 Painless experience - The long nylon bristles combined with lots of short boar bristles on the patented brush gives you a painless experience every time
Time saving - Ultra-detangler detangles knots up to 5 times faster, saving you lots of precious time. The best is that it is specifically designed to work with dry or wet hair, and on ALL hair types!
Use On All Hair Types - This design is specifically made to work on all hair types (thick, thin, curly, etc.), wet or dry!
Your Experience BEFORE:
● Irritated hair follicles
● Pain
● Dandruff
● Broken Split Ends
● Permanent hair loss 
Your Experience AFTER the Silky Brush™:
● Removes discomfort 
● Prevents breakage
● Does not pull but easily glides through
● Saves lots of time
● Will make your kiddo very, very happy!
 Invest in a good brush and Get ready for a Pain-FREE detangling experience.
Click on "ADD TO CART"  NOW While it's still in stock!  Offer available while supplies last.

Included:
1 x Silky Brush™
Customer support:
If you have any inquiries either before or after purchase, reach out to us at support@traditionmodern.com.  We are happy to assist you at any time!

All orders have a 30-day money back guarantee
Unbelievable!
I was always struggling to to brush my daughters thick hair, and this is a lifesaver!
Loved the brush and
Recommend