---
Reduce Your Cleaning Costs and Save the Environment!!
Are you tired of wasting time and effort cleaning your floors? Are you a busy homeowner looking for a cleaning tool that's both efficient and effective?
Benefits
1. Convenience
A convenient tool that will make cleaning your home much easier. You can clean your floors without having to bend over or wring out a traditional mop.
2. Time-Saving
The hands-free design allows you to clean your floors quickly and efficiently, cutting down on the time it takes to complete your cleaning tasks.
3. Easy to Use
This mop is easy to assemble and use, and the replaced pads can be easily removed and replaced as needed.
4. Versatile
The mop is suitable for cleaning a wide range of floor types, including hardwood, tile, and laminate, making it a versatile tool for all your cleaning needs.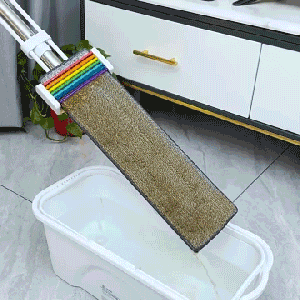 Feature
Material: Plastic + Aluminum Alloy + Stainless Steel
Mop Head Material: Synthetic Cloth
Click on "ADD TO CART" NOW While it's still in stock! Offer available while supplies last.



Package includes:

1 SqueezeMop


Customer support:


If you have any inquiries either before or after purchase, reach out to us at support@traditionmodern.com. We are happy to assist you at any time!

All orders have a 30-day money-back guarantee.
Mop great 5 already bought
It is best washing mop as miałam, and for this not chlapie, need time to get used to use, but it is super! Would be even better if stick was about one piece longer, I am high. Can you dokupić additional item extension stick?