---
The All-Natural Tattoo Ointment You've Been Looking For!
Worried about your expensive tattoo healing properly after getting it done? Is your older tattoo starting to lose its shine?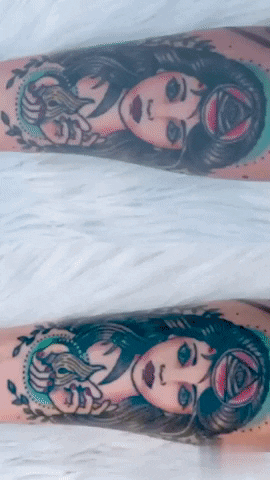 Easy To Use - Simply rub on the ointment, and let it go to work
All Natural Ingredients - This cream is made from olive oil, beeswax, cocoa butter, wheat germ oil, tocopheryl acetate(vitamin E), Lavender oil, sunflower oil, rosemary extract, D7C green 6.
Better Results - Getting a tattoo results in torn skin, inflammation, and scars if not treated right.  Take care of you skin, and your new art, with the best ingredients out there!
**Always consult with your professional tattoo artist for specific after-care instructions**
Click on "ADD TO CART"  NOW While it's still in stock!  Offer available while supplies last.

Included:
1 x 15g Can of Tattoo Healing Recover Ointment
**With the weather still being hot, if the cream comes a little melted, throw it in the refrigerator for an hour, and it will solidify as normal.**
Customer support:
If you have any inquiries either before or after purchase, reach out to us at support@traditionmodern.com.  We are happy to assist you at any time!

All orders have a 30-day money back guarantee
Excellent Product, SUPER fast delivery
As Described
This really does the job as described, and smells great