---
The All-Natural Tattoo Ointment You've Been Looking For!
Worried about your expensive tattoo healing properly after getting it done? Is your older tattoo starting to lose its shine?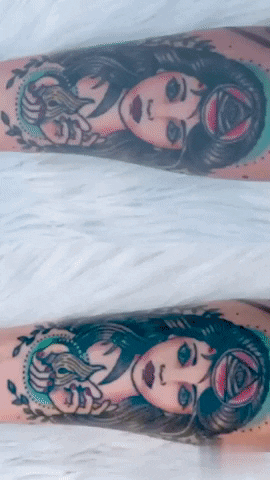 Easy To Use - Simply rub on the ointment, and let it go to work
All Natural Ingredients - This cream is made from olive oil, beeswax, cocoa butter, wheat germ oil, tocopheryl acetate(vitamin E), Lavender oil, sunflower oil, rosemary extract, D7C green 6.
Better Results - Getting a tattoo results in torn skin, inflammation, and scars if not treated right.  Take care of you skin, and your new art, with the best ingredients out there!
**Always consult with your professional tattoo artist for specific after-care instructions**
Click on "ADD TO CART"  NOW While it's still in stock!  Offer available while supplies last.

Included:
1 x 15g Can of Tattoo Healing Recover Ointment
**With the weather still being hot, if the cream comes a little melted, throw it in the refrigerator for an hour, and it will solidify as normal.**
Customer support:
If you have any inquiries either before or after purchase, reach out to us at support@traditionmodern.com.  We are happy to assist you at any time!

All orders have a 30-day money back guarantee
Excellent Product, SUPER fast delivery
As Described
This really does the job as described, and smells great
Ordered One, and then had to order more!
This stuff really works, and I love the all-natural ingredients! For the investment I made in these tattoos, this stuff is definitely worth the money to keep them looking fresh!
Was all super Thank you like Again
It came well missing to prove it