---
Relax, Calm Down, and Workout All In One Swing!
Are you looking for a yoga-like workout that is fun and relaxing?  Wish you had a relaxing place to go to when your anxiety is high? Do you have a child with emotional or sensory difficulties? Or perhaps they need to be calmed down quickly? The Therapy Swing is the perfect swing for all these things, and here's why!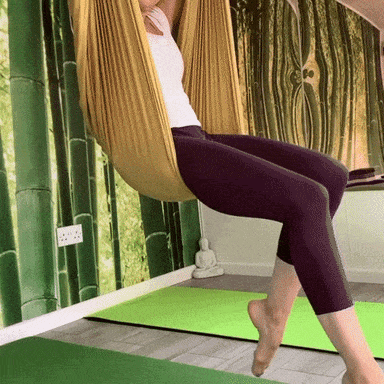 Feature
1.
Easy to Assembly - quickly and simply attach to a horizontal beam at home or outside in a tree. You can alternatively hang the swing from the ceiling or on the optional door hanger that is provided in between each door.
2.
Prevent a Breakdown - Whether it is for you or for you child, if you feel a breakdown coming on, the Therapy Swing will calm you down immediately.  Its relaxing effects will be your go-to natural solution to relieve your anxiety
3.
Security and comfort - This will be a safe haven for you or your child when things get tough.  It is such a calming solution when things get out of hand.
4.
Multiple Uses - Whether your child needs a fun place to play, a relaxing place to go to, or to calm them after a breakdown, this is perfect!  This can also be used for a workout as well, along with all the things listed above for you!
Click on "ADD TO CART" NOW While it's still in stock! Offer available while supplies last.



Package includes:

1 x Yoga hammock
2 x Multi-loops daisy chains
1 x safety carabiner with twist-lock system
1 x Ceiling mount
4 x Screw and anchors



Customer support:


If you have any inquiries either before or after purchase, reach out to us at support@traditionmodern.com. We are happy to assist you at any time!
All orders have a 30-day money back guarantee.